INTERNET, a growing media
The Internet has revolutionised the world of the media in recent years. It has led to a change of such magnitude in the communication sector that nowadays is it swiftly becoming the preferred method for finding out the news. It's certainly the method which has increased its audience the most, already surpassing 20% with regards to other methods.
The Under 35s use it above the press and other media for keeping abreast of the news in real time, available 24 hours a day and accessing wider and more detailed information.
Currently, in Spain there are more than eleven million Internet users, of which 80% meet an economic profile of middle, upper middle or upper class.
Totana.com A reference Point


Totana.com came about at the end of 2001 with the aim of offering wider news and information about the town of Totana. We were pioneers in the publication of local information on the Internet, using cutting edge technology at the reach of a small group of web portals within the national field.

Today it's the most important Internet reference point in the town of Totana and in the region of Guadalent?n (Totana, Librilla, Alhama de Murcia, Mazarr?n, Aledo). Its influence reaches across the whole of the region of Murcia, achieved through sponsorship campaigns, publicity on local media, recognition in the press, winning important prizes and, of course, its good position on the most important national and international search engines.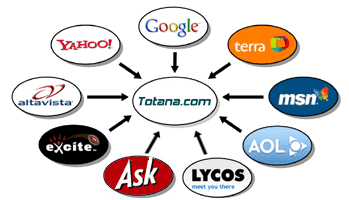 Totana.com not just offers its advantages to local businesses; given that it is also visited on a national and international level (40% of its visits are users outside Spain). We can develop all your business needs to enter onto the Internet in a professional and effective way.
Publicity on the Internet


Advertising on the Internet stands out with respect to the other media through its interaction, the possibility of measuring its results in real time, and its low cost in relation to the said results.
The main reason why businesses decide advertise on-line is to present their products and services as well as capturing potential clients and providing corporate information. The majority of publicity investment on the Internet is done via banner campaigns. A banner is an image which can be animated where the advertising message is projected onto the screen. It's consequently a small advertisement included in a preferential place on a web page, which can also be a hyperlink to the business's own web page. If your company is looking for penetration at regional, national and even international level, advertising on Totana.com would probably be the best not to mention the most economical choice.
More information:
www.murcia.com/publicidad/totana
---
Totana.com More than just a web portal
Totana.com is managed and developed by graphic design and programming professionals with extensive experience in the Internet sector. Our specialisation allows us to develop and advise you on all aspects to do with the Internet and communication. We carry out the whole process related to the creation your web site, making it meet your business's real needs.
Services we offer:
Besides the services of our web portal, we offer everything your business needs to be on the Internet:


Hosting
Place your web on a server which will offer you continuous assistance and the most complete professional solutions.


Registration of domains
We manage the registration of any type of domain (es. com. net?) for your business or brand on the Internet.


Design and programming of web pages
Personalised Projects which meet your business's real needs, always offering the best for your web page.


Live transmission on the Internet
A little known option in this market in which we have been pioneers for some years.


On-line shops
We can develop for your web an on-line shop which allows banking transactions with total security (TPV), increasing the services which your business can offer


Registration and positioning on search engines
Once your web site has been created, it is necessary to look after its position on the Internet. A good web site badly placed on search engines or directories isn't useful. We offer a series of services to improve the position of your site.
Graphic Design
Corporate image design, logotypes, posters, leaflets, brochures, t-shirts, banners, etc.

Para m?s informaci?n: